What is Mayhem?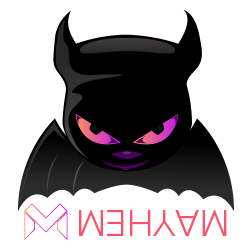 Mayhem is a framework for developing large, complex applications with TypeScript or JavaScript. Unlike other Web libraries and frameworks that place absolute emphasis on performance or file size, Mayhem is designed around these three key tenets:
Predictability: As much as possible, the framework must be designed to minimise surprise. Mayhem uses as little magic as possible in order to accomplish its goals, while still being exceptionally powerful & easy to use, with a minimum of rote.
Extensibility: It must be possible for all parts of the framework to be easily extended or replaced with newer, better components. This allows many different classes of applications to be written, including those not envisioned when the framework was originally written, using the same standard set of tools.
Correctness: When writing software, it's frustrating when your tools get you stuck. Mayhem was architected from the ground up to be modular, testable, and easy to understand in order to minimise the maintenance cost surrounding its use.
We believe that good architecture, in combination with today's superfast JavaScript engines, ensures a very high level of performance in nearly all use cases. As such, the clarity and maintainability of the Mayhem codebase will always be given priority over performance tweaks in all but the hottest code paths. We hope that you will see the benefit of this decision in increased productivity and less time spent troubleshooting your apps!
What is Mayhem best for?
Mayhem is a general purpose application development framework that can be used for developing virtually any type of client-side, server-side, or mobile application. Because of its emphasis on strict architectural patterns and conventions, it is especially well-suited for extremely large, "enterprise-level" applications that must be maintained by large teams of developers with varying skill levels.
This first release of Mayhem focuses primarily on the development of form-based client-side Web applications, but we plan on rapidly expanding functionality for other types of apps. Pull requests are accepted!
System requirements
End-users of Mayhem applications must meet the following minimum system requirements:
| | |
| --- | --- |
| Android | 4.1.2+ |
| Chrome | Latest |
| Firefox | Latest ESR or rapid release |
| Internet Explorer | 9+ |
| iOS | 6.1+ |
| Opera | Latest |
| Safari (Mac OS) | Latest |
Developers using Mayhem must also meet the following additional requirements:
| | | |
| --- | --- | --- |
| Bower | 1.3.9+ | for client-side package installation |
| Node.js | 0.10.28+ | for builds & functional testing |
| npm | 1.4.4+ | for Node.js package installation |
Installation
Depending upon the platform you are planning on developing for, there are three different ways in which installation can be performed:
For writing Node.js apps: Mayhem can be installed for use with Node.js by running npm install mayhem. This will install a copy of Mayhem that has been pre-compiled for Node.js using the CommonJS module format, plus ambient declarations that can be used when writing Mayhem applications for Node.js with TypeScript.
For writing browser & mobile apps: Mayhem can be installed for browsers & mobile devices by running bower install mayhem. This will install a copy of Mayhem that has been pre-compiled for asynchronously loaded environments using the AMD module format, plus ambient declarations that can be used when writing Mayhem applications for browsers or mobile devices with TypeScript. Bower can be installed from npm by running npm install -g bower.
For working on Mayhem, or compiling your own modules: The original TypeScript source for Mayhem can be installed from our GitHub repository by running git clone --recursive git@github.com:SitePen/mayhem.git. The README file in the repository contains additional instructions on installation and usage of the development version of Mayhem.
Because Mayhem is written in TypeScript, future versions of Mayhem will also be compiled to standard EcmaScript 6 modules once that format has been finalised.
Reading this guide
Throughout this guide, you will find certain pieces of information are called out specifically, as we have found them to be especially important or problematic for users.
Later sections of this guide are designed to be built upon knowledge presented in earlier parts. If you jump into the middle and feel confused, step back a section or two until you find the information you need to move forward. We also accept pull requests to the documentation in order to improve its flow and clarity.
Creating your first app
In order to simplify the creation of new applications, Mayhem comes with a command-line generator that can be used to instantly generate new applications.
To get started, just run the generator for starting a Web application:
$ yo mayhem webapp src
This will create a new skeleton Web app in the src directory (actually, a TodoMVC app). All that needs to be done now is to open the test application in a browser:
http://localhost/path/to/src/index.html
Navigating to this index page should display a fully functioning client-side TodoMVC application, ready for you to start hacking away!
TODO: Continue tutorialising the basic TodoMVC app; maybe add in user authentication or something.